The following is a list of the 7 best Football Manager 2023 wonderkids from the Football Manager 2023 (FM23) game. Of course, the players we include in this list or list are absolutely mandatory for you to have in the team!
Early November, Sports Interactive & also SEGA have released the latest edition of the Football Manager game series. Entitled Football Manager 2023 or FM23 for short. There are so many promising updates that you must try. We have also made the minimum specifications to be able to play this game for you.
Back to the topic. Talking about wonderkid, it is clear that FM23 game players certainly crave them to be present in the squad or team that we lead. Especially if we manage to educate this wonderkid player correctly & transform him into a big player with a very expensive market price.
In this article. We will not write down all the names of wonderkids in this FM23 series. Instead, we will only choose 7 names of players who are suitable & have great potential to shine in your team. Who are they? Here is the list.
READ ALSO:
---
7 Most Potential & Must-Buy Wonderkids in Football Manager 2023
1. Anatoliy Trubin (Shakhtar)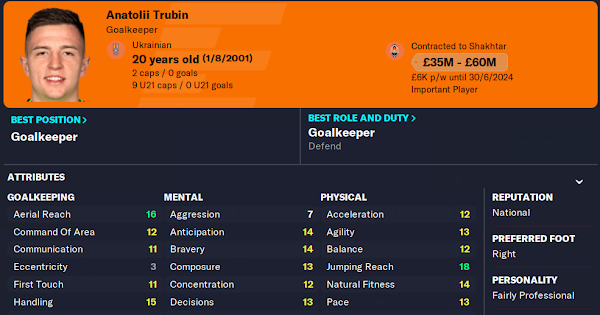 As a 16-year-old goalkeeper, you can count on Trubin for top balls. He is about 198cm tall and is endowed with a capable Aerial Reach & Jumping Reach. In addition, this goalkeeper has a Bravery of 14. It is quite suitable to play him as a Sweeper Keeper both Defensive and Attacking types.
The downside is that you need a budget of 35-60 million euros, even more if you happen to coach Premier League teams. This is because his contract still remains for the next two years. So the numbers to redeem it from the Shakhtar club are quite a lot.
2. Jurrien Timber (Ajax)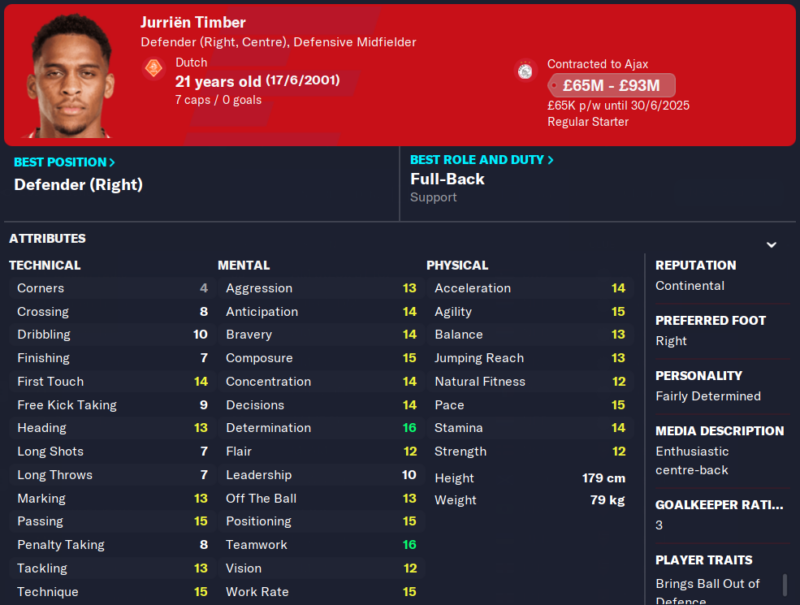 Throughout the 2022 World Cup, Timber was the first choice for the Netherlands & made it to the round of 16 (at the time of publishing). Even at Ajax, he was a first choice under both Erik Ten Hag and Alfred Schreuder. It's no surprise that he now has a Conitinental reputation and has a determination & composure above 13.
But if you followed the football transfer gossip last summer. Ajax does not want to release players who are also known as versatile players (can play in various positions). That's why if you see the picture above. The number to redeem Timber is quite large. Not to mention, his contract at Ajax still lasts until 2025.
3. Josko Gvardiol (RB Leipzig)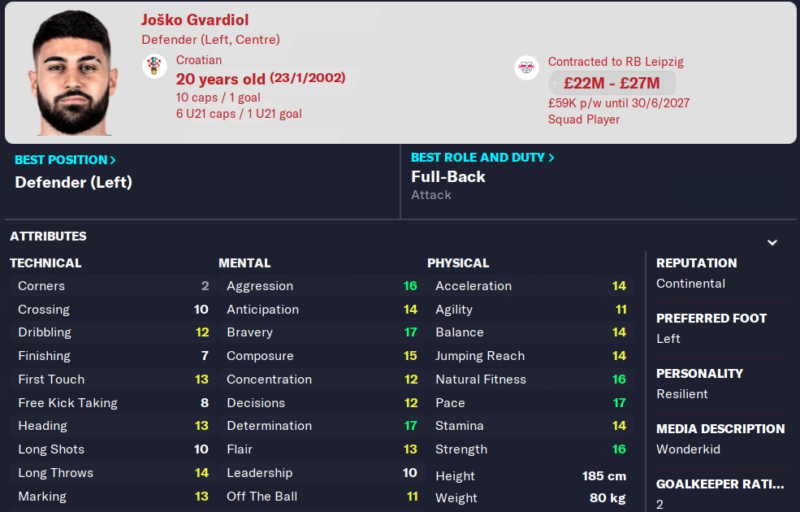 Not much different from Timber, the name Josko Gvardiol also stole the attention of the 2022 World Cup audience. Playing under the Croatian national team flag. He made many clean kicks and did not hesitate to tackle the opponent. This explains why in the Football Manager 2023 game. Gvardiol has Aggression, Bravery, Pace, and Strength that reach 16.
You can even play Gvardiol in the center-back and left-back positions because he is left-footed. Unlike Timber, you can also buy the wonderkid at a price that will not be far from 27-45 million euros. Suitable for finding a butcher defender & can play as a left-back or this wing.
4. Jamal Musiala (Bayern Munchen)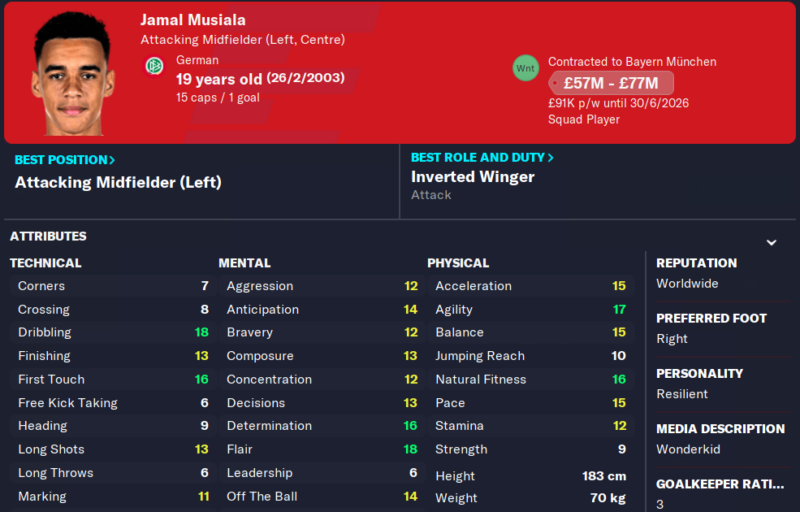 For football fans, we probably don't need to explain how special this player is. But for the curious layman. In short, Musiala is a versatile player who is blessed with impressive dribbling, first touch, and agility.
But because he is at the Bayern Munich club which is a big team in the Bundesliga. Don't be surprised if you need to spend up to 100 million euros. Not to mention, his salary at Munich has currently touched up to 91 thousand per week. Already imagine how hard it is to get Musiala in the game hehe…
5. Yeremy Pino (Villareal)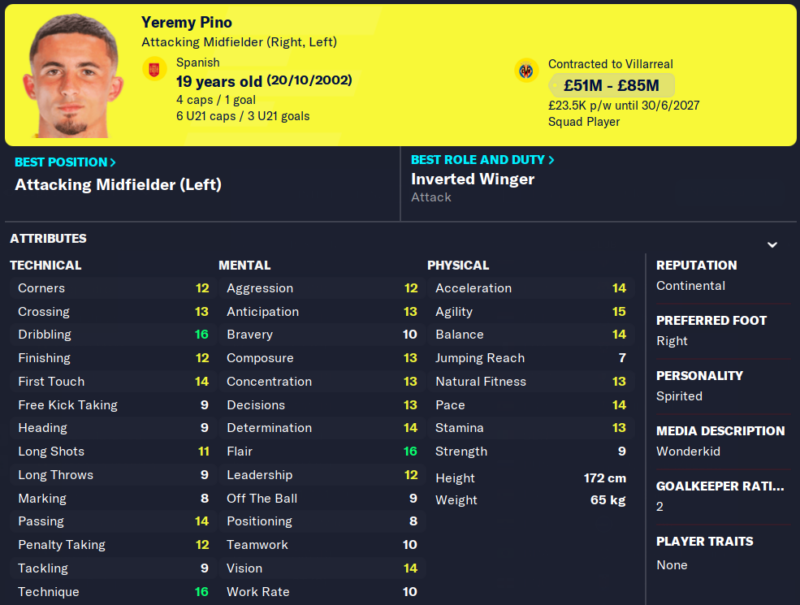 Since the FM21 series, Yeremy Pino has been among the wonderkids that we should look forward to in the future. And in this 23rd edition, Pino has improved quite impressively. Starting from Dribbling, Technique, and also the Flair that he has.
Because his contract still lasts until 2027, Villareal certainly does not want to release the future winger of the Spanish national team. They fenced the player with a release clause of 80 million euros.
6. Giovanni Reyna (Borussia Dortmund)
The son of a former US national team player (Claudio Reyna) is pursuing his football career in Germany like his father before him. Before Erling Haaland moved to Manchester City. Reyna is a figure who often provides delicious passes to the sharp Norwegian striker.
That said, Giovanni Reyna's ability in this 23rd series is still fairly standard. But if you manage to maximize the potential of this youngster. It is not impossible that the player who now has a price range of 45-53 million euros will immediately have a rapid development of statistics & individual abilities.
7. Youssofa Moukoko (Borussia Dortmund)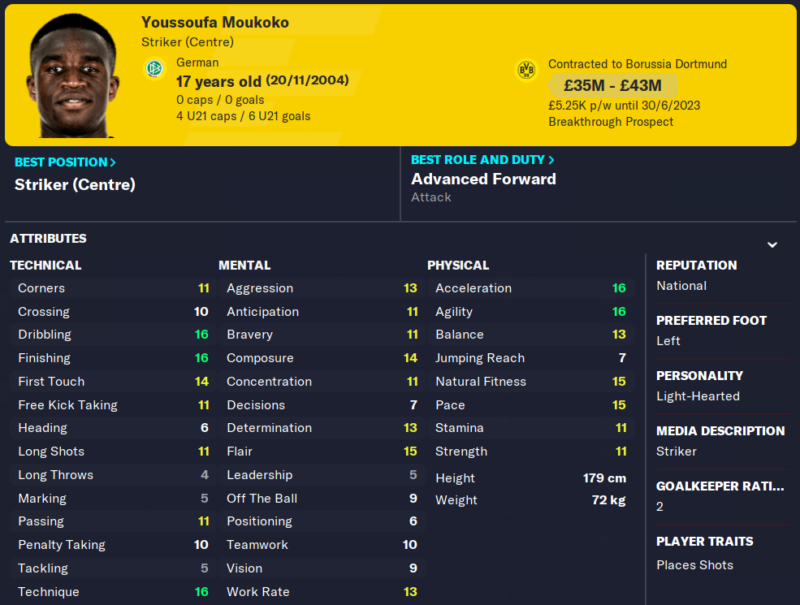 Back again discussing Borussia Dortmund players. This time there is a figure of Youssofa Moukoko, who can be said to be a substitute for the figure of Haaland who is now at Manchester City. From his ability above. It can be seen if Moukoko is still so raw compared to other wonderkids.
But calm, as a pure striker, Moukoko has been able to maximize his role both as an Advanced Forward, Pressing Forward, even to the role of False Nine. Therefore, Dortmund also priced this youngster at a price that did not reach more than 60 million euros.
---
Yep. Those are the seven best Football Manager 2023 wonderkids that you must have. From the list that we have chosen, are there any other names that are actually suitable to be included in the list?