Entering the end of v4.0, finally HoYoverse officially announced the Genshin Impact v4.1 Livestreaming Schedule. To introduce what will be coming in v4.1, HoYoverse will be holding a livestreaming event which is their monthly event.
What information or content Genshin Impact will be present? For those of you who are curious, make sure you see the following article until the end.
This Special Program will introduce new development content that we can enjoy in the upcoming Genshin Impact 4.1.
Genshin Impact v4.1 Livestream Schedule
Through Genshin Impact's official twitter account, Hoyoverse revealed when the Special Program v4.1 Live Stream will be.
This livestream has the theme "As Light Rain Falls Without Reason" which you can watch through the official Twitch channel. The Genshin Impact 4.1 livestream will take place this September 15.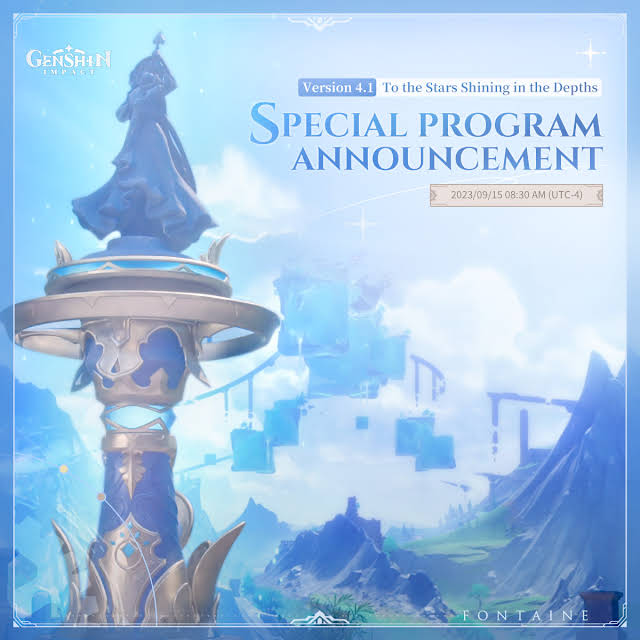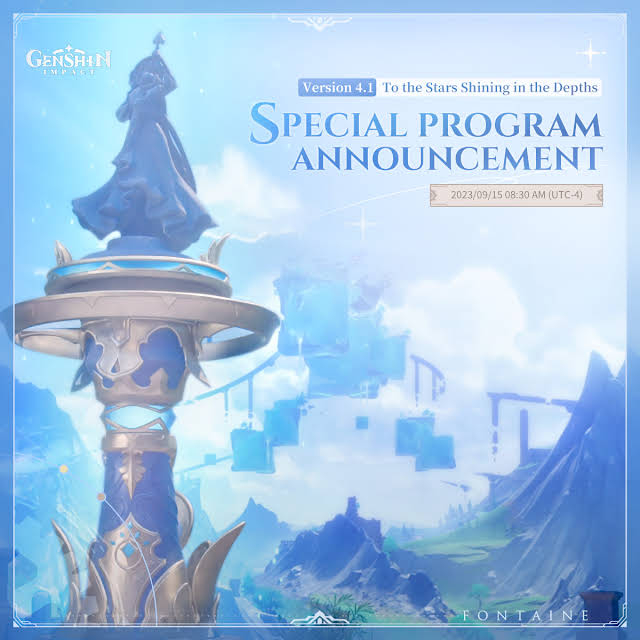 The event will will bring some new information such as character and weapon banners, new event updates, and (possibly) new regions that Traveler can explore.
In addition, this special Genshin Impact 4.1 livestream program will be uploaded to the Genshin Youtube Channel on the same day.
This version will be interesting because there will be more new areas of Fontaine later. Reportedly the Fontaine patch will be quite fast and only until v4.6 later.
So in each patch there will be new areas that HoYoverse will introduce. There will also be two new characters that the developers introduce, Neuvillette and Wriothesley.
Although there have been leaks in several videos, they are only gameplay and can still be changed. Of course, it will be officially announced later via live streaming.
---
That was the Genshin Impact v4.1 Livestreaming Schedule that HoYoverse just announced. What do you guys think? Feel free to share your opinions through the comment section below.
So you don't miss out on information and Genshin Impact tips from us, make sure you keep visiting Dafunda.