Will be released in a few months, it seems that the FIFA 23 game is getting a lot of positive responses from its fans. This is inseparable from some interesting FIFA 23 facts that we should certainly discuss. As a game developer, Electronic Arts should be proud of what's coming to FIFA 23.
For those of you who are unaware, FIFA 23 coming this year is the last title of EA's football game before they change the title to EA Sports FC. Despite the title change, the ball game's distinctive features will continue into 2023 after EA's licensing partnership ends.
For those of you who are curious about FIFA 23, Dafunda Games has summarized some interesting facts about FIFA 23 that make this game worth playing. In addition, Electronic Arts also provides several features in FIFA 23 that will spoil old players and newcomers alike. What are the interesting facts? Here's the summary.
Presents Hypermotion 2 Technology
One of the reasons FIFA is such a popular game is that the atmosphere of the game is very close to that of a real football match. The movement of each player feels very real. Especially after switching engines which further refined the gameplay of FIFA.
EA as the developer will add the Hypermotion 2 technology feature created for next-gen consoles and PC. Through EA's official website, Hypermotion 2 will provide flexibility in the movements of each player so that it looks more real and not stiff.
This feature uses motion capture technology and machine learning animation taken from real-world football matches with professional players. Hypermotion 2 technology managed to get an additional 6000 different animated movements from each motion.
---
Career Mode upgrade
In the previous series, Career Mode allowed players to control teams at the club level and accept jobs from international teams. However, with the World Cup playing a huge role in FIFA 23, it's likely that fans will get the chance to start Career Mode as an international manager.
That way you can make big decisions about your preferred matches, line-ups, and team training. In addition, players can also take control at crucial moments that can change the course of the match. Then you can also add some cutscenes at key points throughout your career to make it memorable.
In this series, the developer also added a personality type that will describe what the character we create is like on and off the field. In addition, in the manager career section, players can use avatars of famous coaches such as Pep Guardiola, Antonio Conte, Jurgen Klopp, and so on.
---
Bringing Gameplay Improvements
In the trailer players will see a cinematic view of the FIFA 23 gameplay with short clips of what the actual gameplay looks like. With HyperMotion 2, the animations are extremely realistic.
One of the biggest gameplay changes presented through the trailer is the change to the free kick system which fans say is an improvement over the previous series. There are two aspects of the free kick system shown in the trailer.
Players will now find it easy to place players lying behind the wall for protection from low shots. In addition, players will also notice changes to the free kick shooting mechanism.
---
Presenting the Women's Football Team
The next interesting fact of FIFA 23 is that it features a football team for women. This feature itself has been around since FIFA 16 was released, but the team itself only consists of several women's national teams from several countries such as the United States, Spain, and also England. As of the release of FIFA 22, there have been about 17 women's national teams added.
With many female football enthusiasts, EA also developed and expanded the female football feature in their games. In FIFA 23, EA added a women's football club for the first time. Meanwhile, only 2 leagues have been added, namely the FA Women Super league from England and the French Division 1 Feminine from France.
To increase enthusiasm, EA promised to add more in the future. In addition to presenting women's football clubs, EA also added international women's football competitions such as the Women World Cup 2023.
---
Juventus Is Back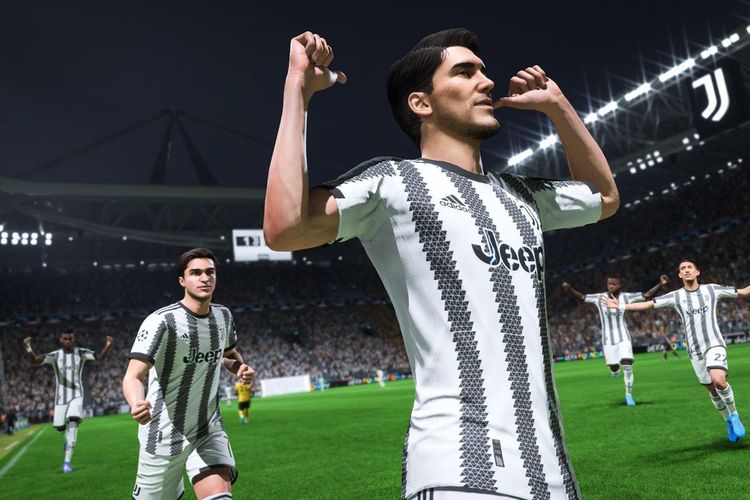 As we know, Electronic Arts has contracts with several football clubs as their brand ambassadors. In addition, FIFA also offers licensing cooperation to professional football clubs. This is so that they have the right to use the property.
For example, such as stadiums, jerseys, and also club names for them to enter into the FIFA game. However, not all club licenses were successfully obtained for various reasons. One of them is that some clubs already have contracts with competing game developers.
One of the surprising news is that the Italian giant Juventus was missing in FIFA 20 and was renamed Piemonte Calcio.This happened because in 2020 Juventus already had an exclusive contract with the game Pro Evolution Soccer 2020 to fully own their license in the game.
This made FIFA have to change the name, club logo, stadium, and jersey to avoid copyright issues. After a long drama, in the FIFA 23 game EA finally managed to regain the Bianconeri's license so that they could bring back the giant from the city of Turin.
---
Well that's 5 Interesting Facts FIFA 23 that makes it very worthy of you to wait and also play. There are many advantages of FIFA 23 this time in terms of gameplay, visualization, licensing, and many others that may not be revealed.
Make sure you stay tuned to Dafunds Game so you don't miss out on any other interesting information and updates from us.