Bandai Namco has released a two-minute gameplay trailer that focuses entirely on the modern version of Tekken 8's King. King is one of the characters that has appeared since the first Tekken series was released.
He appears along with characters like Kazuya, Heihachi, Yoshimitsu, and several others from the 1994 game.
For those of you who don't know, Tekken is the longest-running storyline in video games. As presented in the dialog at the end of Tekken 7, this new sequel will focus on the meeting between father and son, Kazuya Mishima and Jin Kazama.
King Tekken 8 New Look
In the trailer, King appears wearing the iconic Jaguar mask, cape, and costume of a contemporary wrestler. In addition to his unique costume, he also appears with a mic as if he is hosting a viral wrestling event with the words "King the Iron Fist Tournament".
In this version, King is armed with powerful punches and kicks. In addition, there is also a signature chain combo with an epic grapple. He also taunts in some attacks, making this character very difficult to fight.
King also performed some acrobatic wrestling through his grapple in the game. Of particular interest is a new grappling sequence where King does a tug-of-war with Paul Phoenix.
Where he kicks his knees and pushes them into the wall to produce quite effective damage. He also performs a Rage Art that can break an opponent's back with his acrobatic style.
Increasingly Realistic Character Visuals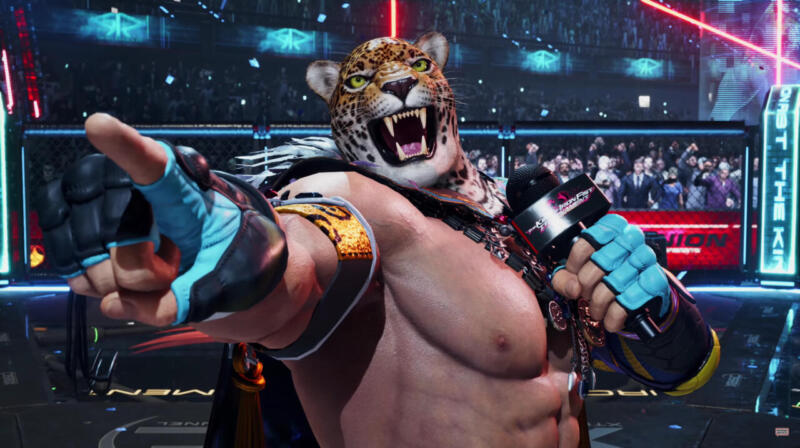 So far, Bandai Namco has only emphasized visual quality such as increasingly detailed character models. Bandai also revealed the introduction of gameplay mechanics for the completely new Rage and Heat systems.
The system this time is more adapted to the style of fighting style that is more aggressive. So players who dare to take risks will have more advantages when successfully executing consecutive combos.
The rest of Tekken 8 also brings an overhaul of the visual side which finally looks much more modern on various sides.
Bandai Nambo as the developer of Tekken 8 revealed that Tekken 8 will be coming to Next-Gen consoles. Tekken will be released for PlayStation 5, Xbox Series X and S platforms, and also comes to PC via Steam.
---
That's all the information about King Tekken 8 gameplay that we are interested in watching. In order not to miss information and also other interesting content from us, make sure you keep visiting Dafunda.