SIE and Naughty Dog have revealed that the PC version of The Last of Us Part I has been delayed by a few weeks. Sony Interactive Entertainment's decision to bring their game to PC is a new challenge.
This is because most of the developers that Sony Interactive Entertainment has are only experts in developing games to be optimized for PlayStation only. Names like Horizon Zero Dawn, God of War, Uncharted, and Marvel's Spider Man are some of the PlayStation-exclusive games that are now officially available on Personal Computers.
This is great news for PC gamers who can now try out exclusive PlayStation games on their personal computers.
The Last of Us Part I Delayed
Most recently, another exclusive game that will be coming to the PC platform is The Last of Us Part I. The PC version of this game will initially release on March 3, 2023.
And some time ago, Naughty Dog decided to postpone the PC version of The Last of Us Part I from March 3, 2023 to March 28, 2023. The game will be available on Steam as well as the Epic Games Store.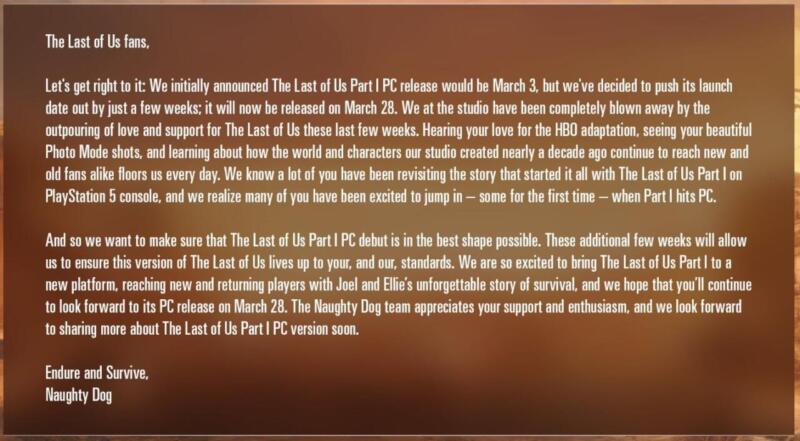 Naughty Dog's official statement:
Fans of The Last of Us,

Let's get right into it: We originally announced that The Last of Us Part I for PC would release on March 3, but we decided to push the launch date back just a few weeks; it will now release on March 28. We at the studio have been absolutely blown away by the outpouring of love and support for The Last of Us these past few weeks. Hearing about your love for the HBO adaptation, seeing your beautiful Photo Mode photos, and learning how the world and characters our studio created nearly a decade ago continue to reach fans new and old, gets us excited every day. We know many of you have revisited the story that started it all with The Last of Us Part I on PS5 consoles and we realize that many of you are excited to jump in – some for the first time – when Part I comes to PC.

As such, we want to make sure that the PC debut of The Last of Us Part I is in the best possible shape. These few extra weeks will allow us to make sure this version of The Last of Us is up to your standards and ours. We're excited to bring The Last of Us Part I to new platforms, reaching new and returning players alike with Joel and Ellie's unforgettable story of survival, and we hope you'll continue to look forward to its release on PC on March 28. The Naughty Dog team appreciates your support and enthusiasm, and we look forward to sharing more about the PC version of The Last of Us Part I soon.

Endure and Survive,Naughty Dog
---
About The Last of Us Part 1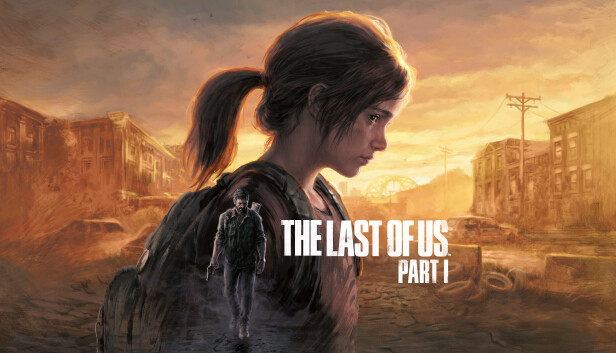 The Last of Us Part I will tell the story of Ellie and Joel's adventures in a world affected by a virus outbreak that turns everyone into terrible creatures. Ellie is the only human who has the virus antigen and tries to escape and fight those who try to use it with Joel.
Different from the PS3 series, the PC version of Part I will come with Part II-style graphics from the game, which is equivalent to the Uncharted 4 series.
In order to avoid unwanted things, Naughty Dog explained that The Last of Us Part I was delayed so that they could work on the game on PC according to the expectations of the fans.
With this delay, the Personal Computer version of The Last of Us Part I will be released a few weeks after season 1 of The Last of Us TV series ends on HBO on March 12, 2023.
---
That's all the information about the delay of The Last of Us Part I which certainly makes fans ask questions. In order not to miss information and also other interesting content from us, make sure you keep an eye on Dafunda.