SEGA and also Ryu Ga Gotoku Studio through their latest press release provide an overview of the main character Like a Dragon: Ishin! and the beginning of the game's story. For those of you who missed the information, Like a Dragon: Ishin! is an action-adventure historical thriller game set in the unique 1860s Kyo, a fictional version of Kyoto.
While other games tell old stories in Japanese history, Like a Dragon: Ishin! lets players experience the story of how the iconic samurai era died out. Sakamoto Ryoma, is a historical figure largely credited with overthrowing the shogunate and bringing Japan into radical reform.
READ ALSO:
Storyline Like a Dragon: Ishin!
The first chapter, titled The Beginning, introduces Sakamoto Ryoma, the main protagonist in this game. It is said that he is a samurai from a low caste but thanks to his sword skills, he received special permission to hone his swordsmanship in Edo.
After years of training, he eventually returned to his hometown of Tosa. Upon his return to Tosa, he saw that the caste system was still in place. After learning about the outside world in Edo, Ryoma ventured to stop the oppression that was being perpetrated by upper-caste family members on lower-caste people.
It turned out that his resistance was in vain and he ended up in prison. Fortunately, he was later released by Magistrate Yoshida Toyo, the most important person in Tosa who turned out to be his adoptive father. Yoshida Toyo also invited Ryoma to discuss with his adopted brother, Takechi Hanpeita, to discuss plans for the future.
Main Character Like a Dragon: Ishin!
The "Dragon" of Tosa who is searching for his life's purpose Tosa Goshi
Sakamoto Ryoma(Voiced by Takaya Kuroda)
Leader of the Revolutionaries and Ryoma's adopted brother Founder of the Tosa Loyalist Party 【NEW CAST】
Takechi Hanpeita(Voiced by Hideo Nakano)
Ryoma's adoptive father and the most important person in the Tosa clan Judge Tosa
Yoshida Toyo(Voiced by Unsho Ishizuka)
Tosa Loyalist Party Tosa Samurai
Okada Izo(Voiced by Kazuhiro Nakaya) Nakaoka Shintaro(Voiced by Kazuhiro Yamaji)
Shinsengumi
The Absent Chief Shrouded in Mystery
Shinsengumi Chief 【NEW CAST】
Kondo Isami(Voiced by Akio Otsuka)
The Cruel and Merciless "Deputy Chief from hell"
Shinsengumi Deputy Chief
Hijikata Toshizo(Voiced by Nakamura Shido)
The mysterious Mibu Wolf Captain of the Shinsengumi Third Division
Saito Hajime(Voiced by Takaya Kuroda)
Main Character Like a Dragon: Ishin!
Shinsengumi Advisor  【NEW CAST】    Captain of the Shinsengumi Fourth Division
Ito Kashitaro(Voiced by Hitoshi Ozawa) Okita Soji(Voiced by Hidenari Ugaki)
Captain of the Shinsengumi Second Division     Captain of the Shinsengumi Fourth Division
Nagakura Shinpachi(Voiced by Rikiya Koyama) Matsubara Chuji(Voiced by Hiroki Tochi)
Captain of Shinsengum Division Fivei Captain of the Shinsengumi Sixth Division
Takeda Kanryusai(Voiced by Riki Takeuchi)      Inoue Genzaburo(Voiced by Shunsuke Sakuya)
Captain of the Shinsengumi Seventh Division   Captain of the Shinsengumi Eighth Division
【NEW CAST】                                                     【NEW CAST】
Tani Sanjuro(Voiced by Masanori Takeda) Todo Heisuke(Voiced by Nobuhiko Okamoto)
Captain of Shinsengumi Division Nine                  Captain of the Shinsengumi Tenth Division
【NEW CAST】                                                                Harada Sanosuke(Voiced by Hiroki Yasumoto)
Suzuki Mikisaburo(Voiced by Ayumi Tanida)
Shinsengumi Inspector【NEW CAST】
Yamazaki Susumu(Voiced by Yuichi Nakamura)
Satsuma Military Commander with a Unique Personality
Saigo Kichinosuke(Voiced by Masami Iwasaki)
A Mysterious Informant Hides in the Streets of Kyo, Samurai of Choshu
Niibori Matsusuke(Voiced by Koichi Yamadera)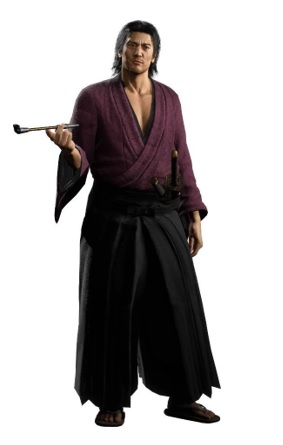 The Largest Inn Girl Poster
Oryo(Voiced by Manami Sugihira)
---
Ryu Ga Gotoku Studio revealed that Like a Dragon: Ishin! will use Unreal Engine 4, as opposed to previous Yakuza games that used Dragon Engine. Like a Dragon: Ishin! is confirmed to release for PS5, Xbox Series X, Xbox Series S, PS4, Xbox One, and PC (Steam) on February 21, 2023.
That was the information about the main characters of Like a Drago: Ishin! and also the initial storyline of this game. So that you don't miss information and also other interesting content from us, make sure you keep visiting Dafunda Game!