Blackpink, one of the most famous girl groups in the world, successfully entertained their fans in the Born Pink World Tour Jakarta event. The concert held at the Gelora Bung Karno Stadium was promoted by iMe Indonesia and was held for 2 days, March 11-12, 2023. But performing live there are certainly some things that cannot be avoided. Therefore, this time we will discuss the incident at the Blackpink Jakarta concert in March 2023.
Blackpink is a female vocal group from South Korea. The group was formed by YG Entertaiment and has four members namely Jennie, Jisoo, Lisa, and Rose.
Here are the Incidents at Blackpink's Jakarta Concert in March 2023
So what incidents happened to Blackpink during the concert in Jakarta last March 2023? For those of you who want to know, you can see the list of discussions below.
1. Rose's shirt straps come undone
The first incident was Ros's shirt strap coming undone while she was singing. So in addition to performing together with other members, each member also shows their solo abilities. Well when Rose performed a song called Hard to Love, in the middle of her performance suddenly her shirt strap came off.
Instead of panicking, Rose continued to sing professionally. She even laughed occasionally because of the incident. Luckily one of the dancers who was behind Rose, immediately straightened Rose's clothes.
2. Jennie's Skirt Blows in the Wind
The next incident was Jennie's skirt flying around while singing. So while the concert was going on, at that time Jennie looked beautiful wearing a black T-shirt and a mini skirt of the same color.
But who would have guessed, when Jennie was singing suddenly the wind was so strong that the skirt she was wearing almost flew in the wind. There was a look of embarrassment on her face, but fortunately the other personnel approached Jennie and helped her calm down.
3. Lisa and Jennie Flicker
Given that Blackpink is one of the most famous and worldwide girl groups, it's no wonder that they have a lot of fans and every concert they hold is always crowded. This also happened at the Jakarta concert yesterday.
Even Blackpink's performance at the concert was so lively that many fireworks greeted at several moments. But it turned out that the ash from the remaining fireworks was blown by the wind and entered Lisa's eyes as well as Jennie.
Lisa and Jennie were seen rubbing their eyes, but fortunately the incident did not last long and they were both able to continue their performance.
4. Jennie Thrown by the Audience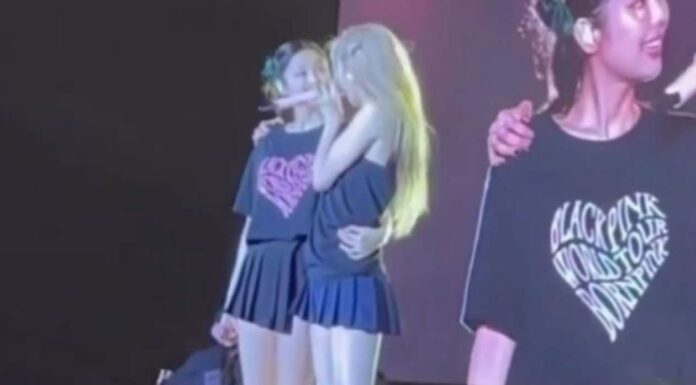 Well there was one very surprising incident that happened to Jennie during the concert. So at that time Jennie was pelted with objects by the audience, experiencing this incident of course Jennie was shocked.
Rose, who saw the incident, immediately gave a disappointed look while signaling the audience not to do it again. Despite having experienced an unpleasant incident, Jennie continued her performance professionally while getting rid of the object off the stage.
5. Many Fans Didn't Get Seats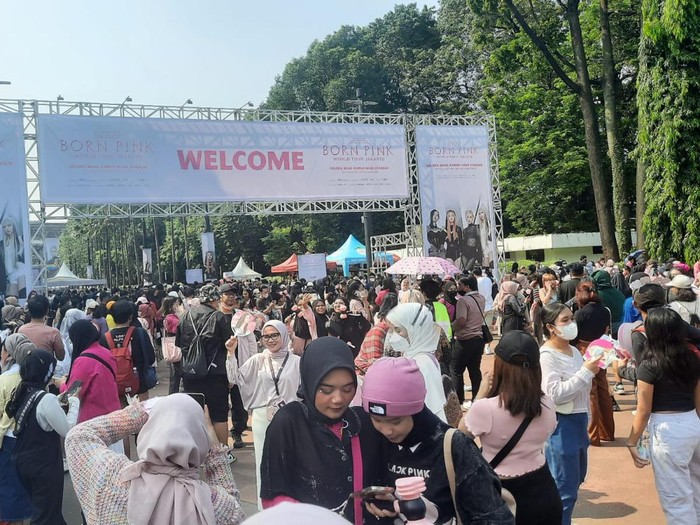 Given that Blackpink is a very famous and worldwide girl group, it's no wonder that the group has a lot of fans and every concert is always awaited by fans. But unfortunately the concert that took place in Jakarta in March 2023 did not give a good impression.
Because there are so many fans who express their disappointment about not getting audience seats even though they have paid very expensive tickets. Not only ordinary people, even the big artists who came to the concert also experienced the same thing, namely not getting an audience seat.
---
These are some of the incidents that occurred at the Blackpink Jakarta March 2023 concert. After reading this article, what do you think about the incident? Don't forget to keep visiting Dafunda.