Finally One Piece manga chapter 1072 has been released on Shuiesha, in this chapter we will see again the funny moment where Bonney is still chasing Vegapunk. In addition, we will get a glimpse of Kuma's flashback with Vegapunk, where they are discussing the weight of a soul and the revelation of the concept of power possessed by Kuma.
Besides we can see the flashback between Kuma and Vegapunk, we can also get a glimpse of the battle between Kaku and Zoro. Apparently Kaku has also entered the Awakening stage and at the end of the chapter we can know the true identity of Stussy.
One Piece Manga Chapter 1072
So what does this One Piece manga chapter 1072 tell us about? Then let's check the full discussion below.
1. Vegapunk was fooled by Bonney
At the beginning of chapter 1072 we will again see a funny scene where Vegapunk is tricked by Bonney. At first glance, we see that the scene is normal or just an ordinary funny moment because Bonney is still trying to attack Vegapunk.
But actually the scene reveals a glimpse of Bonney's strength, where apparently Bonney's strength can be broadcast to an object, it looks like Bonney is hitting Vegapunk's back with a pipe, then Vegapunk turns into a child.
2. Kuma Who Tried to Climb the Red Line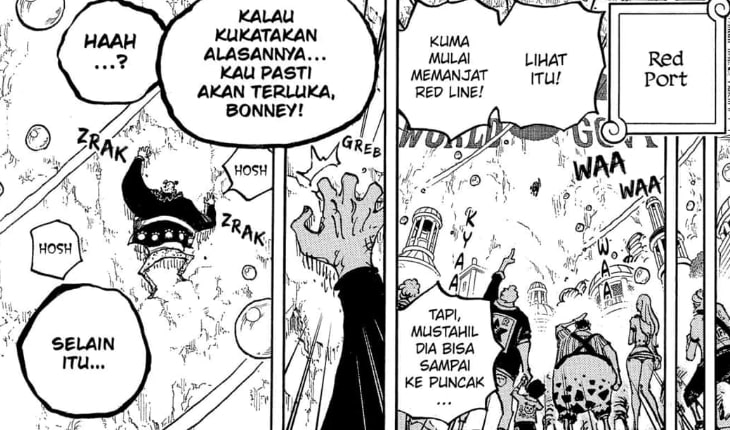 Now the scene moves where Kuma is now trying to climb the Red Line. Actually it is still a mystery what happened to Kuma now, and for some reason now Kuma is trying to climb the Red Line.
When Kuma was climbing, he was suddenly shot by the navy, of course the explosion from the shot made Kuma fall, even so he could still get up and the great thing was that he could still fight back.
3. Flashback of Kuma and Vegapunk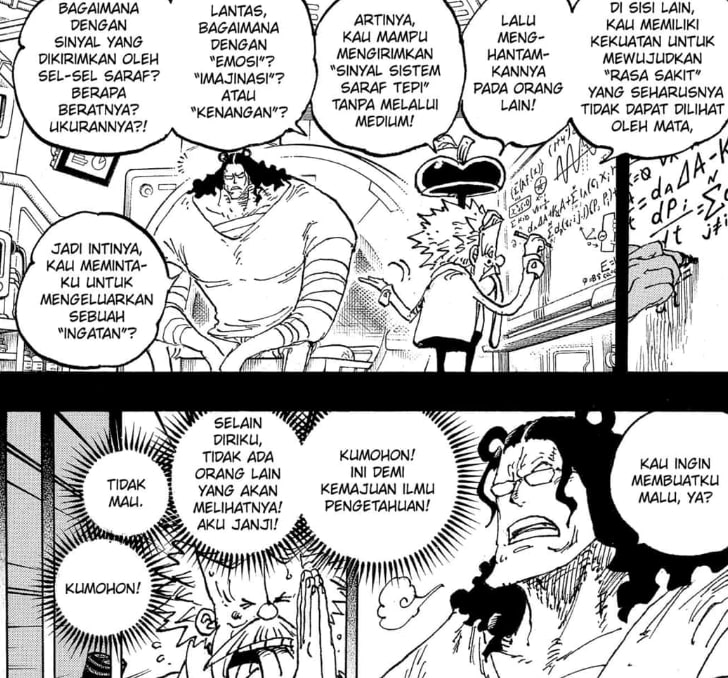 When Bonney managed to corner Vegapunk, he suddenly saw a room where the room had an animal footprint symbol, such as the footprint symbol that Kuma had on both hands.
Out of curiosity Bonney immediately opened the room, and saw a mysterious blob, Kuma's flashback with Vegapunk appeared, where Vegapunk discussed the weight of a soul, then Vegapunk begged Kuma to release a memory.
From the scene, we can know that Kuma's power is not only to move places quickly, but he can feelings or memories that do not have a physical form, become visible, aka the physical form exists. We can see this from Kuma releasing Luffy's pain and releasing his memories.
4. Kaku Awakening vs Zoro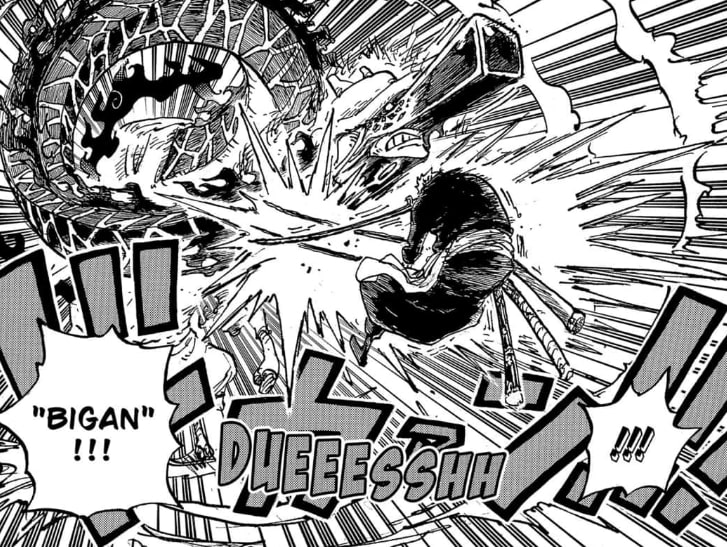 Then the scene moves where Kaku is now facing Zoro again. Not only Rob Lucci, it turns out that Kaku has also been able to enter the Awakening stage, and Kaku's Awakening is a very hard body.
Even so, what experience Zoro got in Wano made him able to withstand Kaku's attacks easily. But unfortunately Kaku fell not because of Zoro but was bitten by his own partner, Stussy.
5. Stussy's True Identity Revealed
As we know Stussy is a member of CP-0, he is famous for his perfect disguise. So perfect, even Stussy managed to become one of the underworld leaders in One Piece.
However, in chapter 1072 it was revealed that Stussy is a clone of Miss Buckingham, one of the members of the Rocks Pirates. Since Stussy is a clone of Miss Bakkin, it means that Miss Bakkin was once beautiful like Stussy and since her true identity has been revealed, the question now becomes whether or not she will betray CP-0.
---
Thus the discussion about the One Piece manga chapter 1072. After reading this article and seeing Stussy's actions, do you think this Stussy will betray CP-0 or not? Don't forget to keep visiting Dafunda.