Through the PlayStation Showcase 2023 event, Insomniac Games shared the Marvel's Spider-Man 2 Gameplay Trailer to close the event. The trailer shows cinematic cutscenes featuring iconic Spider-Man enemies such as Kraven the Hunter and The Lizard.
The trailer also shows Peter Parker's version of Spider-Man appearing in an all-black costume. Fans are certainly familiar with the iconic Symbiote costume.
The gameplay shows that the Symbiote costume provides new powers that can be used against enemies. In addition, Miles Morales' version of Spider-Man will also return as a playable character.
Marvel's Spider-Man 2 was first announced at the PlayStation Showcase in September 2021. During the event, Insomniac Games also announced that it is developing another Marvel game, Wolverine.
About Marvel's Spider-Man 2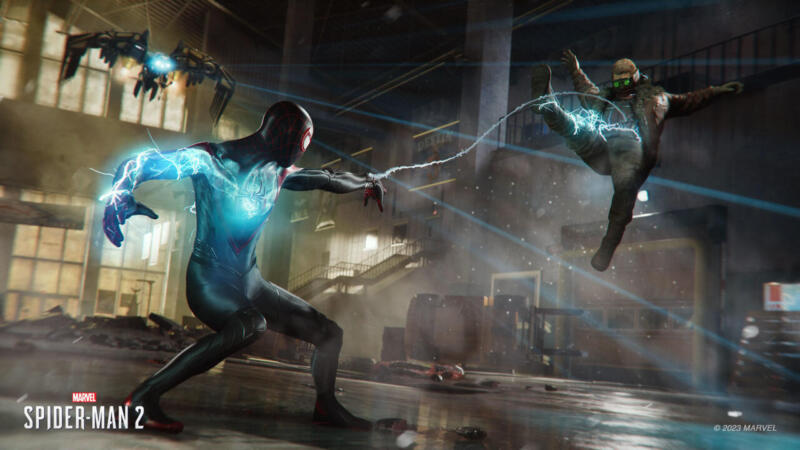 The main storyline of this game carries the story that exists in comics or movies. So, for you loyal fans, you must feel so close and relate. This game presents Peter Parker and Miles Morales, of course, making this storyline even more exciting and thrilling.
In the video teaser, Peter Parker and Miles Morales will face off against an iconic enemy in the Spider-Man universe, namely Venom. Actually, Venom himself was briefly revealed in the ending of the first Spider-Man game.
In the first installment of Marvel's Spider-Man, Peter Parker had to deal with a number of famous enemies, ranging from The Vulture, Doctor Octopus, Rhino, Scorpion, Electro, and also Mr. Negative.
In this version, Miles brings new gameplay such as unique gadgets for stealth mode. There is also the presence of a wingsuit that can make the character fly at high speed. Marvel's Spider-Man 2 is ready for fall 2023.
Bill Rosemann, Marvel's Deputy Creative Director, said that this sequel will have a darker story than the previous game. The sequel will feature a continuation of the story from the first game released in 2018 and the Spider-Man spin-off game: Miles Morales.
---
It is interesting to look forward to how the presence of this game will be. So that you don't miss information and also other interesting content from us, make sure you keep visiting Dafunda.