Some time ago Sony announced the lineup of games that will be present in the February 2023 PS Plus game list. There are four free PlayStation 5 and PlayStation 4 games that you can get for PS Plus Essential, Extra, and Premium subscribers.
PlayStation Plus is an add-on service for PlayStation consoles that allows each player to benefit when subscribing to the PS Plus service. In short, PS Plus is a service that can be enjoyed by subscription or paid.
PS Plus service offers online multiplayer games that allow players to play with other PlayStation players around the world.
PS Plus Free Games February 2023
You may already be impatient with the presence of three lists of games that are present in PS Plus February 2023. Here is the list of PlayStation Plus Free Games February 2023: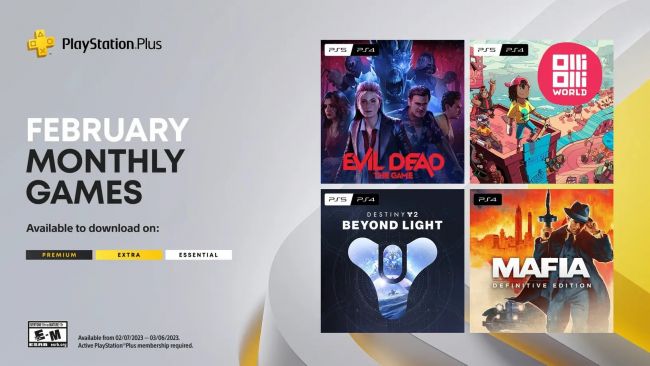 The games that will enter PS Plus this time include OlliOlli World for PS4 and PS5, Mafia Definitive Edition for PS4. Evil Dead The Game for PS4 and PS5, and Destiny 2 Beyond Light (DLC) for PS4 and PS5.
OlliOlli World – OlliOlli World is an action-platformer skateboarding game full of personality. This game is the third sequel to the OlliOlli franchise.
Mafia Definitive Edition – If you are a fan of the game Mafia. Mafia: Definitive Edition is a remake of the first game that was released 18 years ago.
Evil Dead The Game– an online survival horror game. It takes co-op and PvP, blends it with Evil Dead ethics. And uses the best inspiration in Dead by Daylight to make it a fun online chase.
Destiny 2 Beyond Light– Destiny 2 has been free-to-play via PS Plus for a while now, but the Beyond Light expansion is also coming for those players.
Essentials
Marvel's Avengers – (PS5 / PS4)
Cloudpunk – (PS5 / PS4)
Gravity Rush 2 – (PS4)
---
Well, what do you think about this? Don't forget to comment below and keep visiting Dafunda. Or install the application on the Play Store to get other interesting information about Games, Anime, Movies, and also Pop Culture.